Join Calpacific Equipment Company at the upcoming Northern California Facilities Expo
September 25, 2018
Calpacific Equipment Company, located in Richmond, CA, will be a featured exhibitor at the upcoming Northern California Facilities Expo being held September 26-27, 2018, at the Santa Clara Convention Center in Santa Clara, CA.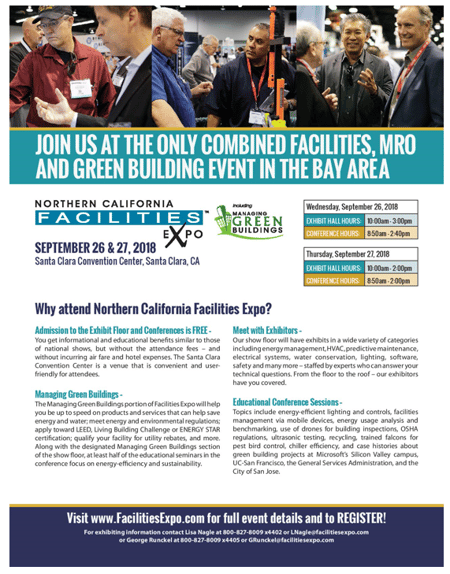 For over six decades, Calpacific has been a well-known representative for a wide variety of steam, hot water, hydronic, heat exchange, HVAC, and process control equipment from industry leading manufacturers.This year, in addition to their mainstay products, Calpacific will be showcasing a new line of products including hot water boilers, water booster pumps and control valves. Attendees may be particularly interested in their Advanced Mechanical Technologies "Rain Water and Grey Water Harvesting Systems," as the city of San Francisco is now requiring that all new commercial buildings include rain water harvesting.

Celebrating its 37th year, the Northern California Facilities Expo is a central event for those in the facilities maintenance, engineering, and energy management sectors representing industries as diverse as information technology, high-tech manufacturing, hospitality, education, health care, utilities and government. Attendees will have access to educational seminars and 136 exhibitors showing a wide range of new and innovative products, including energy management, predictive maintenance, electrical systems, HVAC, water conservation, software, lighting and safety products.
They can also expect to learn about the latest insights, trends, and practical approaches in their industry. Some of the topics to be covered during the two day event include:
Facilities management using mobile devices

Energy-efficient lighting and lighting controls

Benchmarking and analysis of energy usage

Ultrasonic testing

OSHA regulations

Using drones for for facilities inspections and monitoring

Using trained hunting falcons for bird control
Admission is free, and attendees are invited to visit the Calpacific Equipment Company exhibit in booth #518 to learn more about our products. For more information about the Northern California Facilities Expo and to register as an attendee, visit www.facilitiesexpo.com